Discover more from HoustonTips's Newsletter
You're not just another pageview. You're a Houstonian, and you deserve to know the best your city has to offer.
Are you trying to plan your next event? Courtney Morris Collective can help you!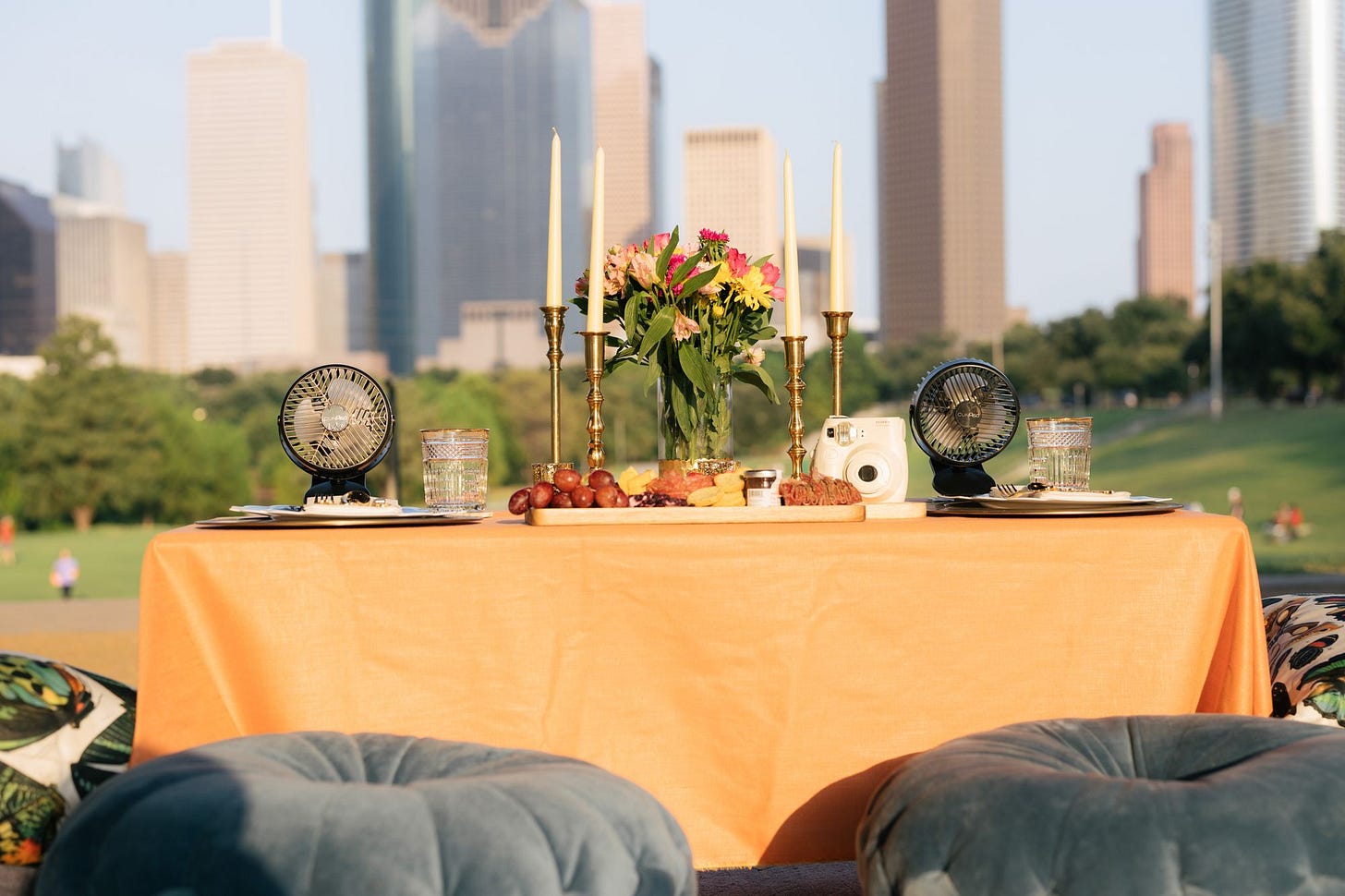 Courtney, Owner & Event Manager of Courtney Morris Collective started the company less than a year ago in January 2021, with the intent to bring joyful and memorable event experiences to people as they celebrate special occasions and spend time together with their loved ones. She based her business on the idea of limitless creativity in every event she does.
Courtney knew during her final year of college at the Chaplin School of Hospitality and Tourism Management at Florida International University, that she wanted to enter the event management space. After college, she had experience working in some of the finest five-star dining establishments and popular annual events, and she knew this was the experience she wanted to bring to her clients even if it starts with a picnic in the park or in their backyard.
She didn't want to just offer the same thing everyone else was offering. Courtney didn't want her clients to have to lift a finger or worry about any of the details of their events and she sought ways to create fully turn-key experiences. She loves small intimate and meaningful gatherings spent with loved ones, and that drew her to create her signature service Perfect Picnics.
Perfect Picnics is a luxury picnic experience, offering the highest level of hospitality to my clients. - Courtney Morris
The idea of a turn-key picnic wasn't original but she wanted every one of her clients' experiences to be unique and custom to them. She wanted to create an experience that her clients will never forget. She considers the smallest details, and that's what sets me apart from other event planners. From the hand-selected flowers beautifully arranged on the table-top to the candles to the food and beverage selections, and even the type of cushion and seating, every detail is carefully considered and tailored to the client's comfort. She always puts her client's needs first because she has a passion for hospitality.
Courtney Morris Collective has grown to include all kinds of events such as birthdays, bridal showers, baby showers, and Micro-Nuptials, which are small weddings for 50 guests or less. She also gets quite a bit of request for Brunch2U, which is their brunch party service.
Courtney understands that planning your event on your own can be very overwhelming and time-consuming. Her event planning business mission is to create a seamless process for her clients, so they can fully enjoy the end result — the event of their dreams. She aims to exceed her clients' expectations and fulfill their requests by providing them with guidance, expert execution, organization of key details, and management of all project elements. Her full-service event planning & design allows her to create a comprehensive plan based on her client's needs, desires, and budget. With her help, clients are able to fully express their vision through their events.
If you would like to explore Courtney Morris Collective services, please check out their menu at www.courtneymorriscollective.com/book-now  and let them create a memorable experience for your turn-key event!